When Brock Lesnar was a part of the University of Minnesota, a former WWE United States Champion trained him. The two men, in fact, started wrestling together during the Ohio Valley Wrestling (OVW) days and were also roommates and often helped each other out.
Lesnar's roommate was none other than WWE superstar Shelton Benjamin. Lesnar and Benjamin share a great relationship and even won the OVW Southern Tag Team Championship on different occasions. Benjamin is also Lesnar's former assistant coach, and he used to constantly instruct and help 'The Beast' in his early days.
Without his associate coach, Lesnar wouldn't have been in the position he is right now. Although, as friends, even Lesnar taught his teacher an important, valuable lesson at the early stages of wrestling.
What advice did Brock Lesnar give to his former assistant coach?
Benjamin, while speaking to Sean Ross Sapp of Fightful Select, revealed what Brock Lesnar advised him. The former United States Champion stated that Brock Lesnar told him never to do something on TV that he isn't 100% sure of.
Shelton used to perform a dangerous high-flying maneuver called 450 Splash, while 'The Beast' performed the shooting star press. Now, though, both men have stopped using these moves, as they are very risky.
"Believe it or not, this is the advice that Brock [Lesnar] gave me. It was like very good advice, 'Hey, if you can hit it 10 out of 10 times, do it. If you can do it 9 out of 10 times, never try to do it on TV.' I don't want to screw up on TV; it's just as simple as that," Shelton Benjamin replied.
Why did Shelton Benjamin stop performing the 450 splash maneuver?
Shelton Benjamin accepted the advice of current WWE Champion Brock Lesnar and it helped him during his wrestling career. Both men used to perform high-flying moves during the early days of their wrestling careers.
Benjamin added, "There's stuff I can still do; I just choose not to because, one, why? And two, like I said, the margin for error is greater than I want to risk."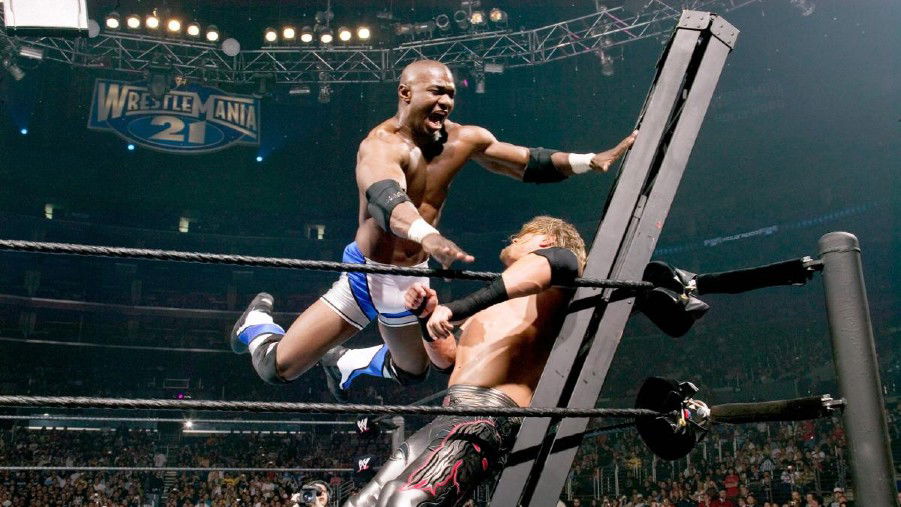 In the same conversation, the former US Champion also opened about the last time he used the 450 Splash move. Shelton stated the last time he tried the high-flying action, he suffered from an elbow injury. In addition, he went through surgery, which is why he doesn't perform the 450 Splash anymore.
Brock Lesnar suggested Benjamin this because risky moves would have cut Shelton's career short. Instead, doing limited and less risky stuff helped prolong his wrestling career.