'Young Rock' season 2 is already in the news. The sitcom revolving around the life of Dwayne "The Rock" Johnson includes the people that had an impact on Dwayne "The Rock" Johnson's life.
Downtown Bruno is one such individual that came to The Rock's help during his younger days. Actor Ryan Pinkston played the role of Downtown Bruno in the 'Young Rock'.
Dwayne Johnson recently took to Twitter and praised the actor for his performance as Downtown Bruno. Bruno is the person who gave Johnson a place to stay during his pro wrestling career in Memphis, Tennessee.
The former WWE Champion claimed Bruno to be his lifelong friend. Friendships like this are truly remarkable. Downtown Bruno even helped The Rock buy his first car. In 2021, Johnson thanked his friend for this with an incredible gesture by gifting him a car.
We have seen it over the years. The Rock has always thanked and given credit to several individuals for helping him and playing a key role in his life.
Today, 'The Most Electrifying Man in Sports Entertainment' is one of the biggest celebrities in the world. But who knows, he might not have made it so far had it not been for people like Downtown Bruno.
Who is Downtown Bruno, one of Dwayne "The Rock" Johnson's good friends?
Downtown Bruno is actually none other than Bruno Lauer. He is also popular among WWE fans as Harvey Wippleman. Lauer is a veteran in this professional wrestling world.
Back in 1991, Bruno Lauer signed with WWE. He managed several top WWE stars such as Kamala, Sid Justice, Giant Gonzalez, and Adam Bomb.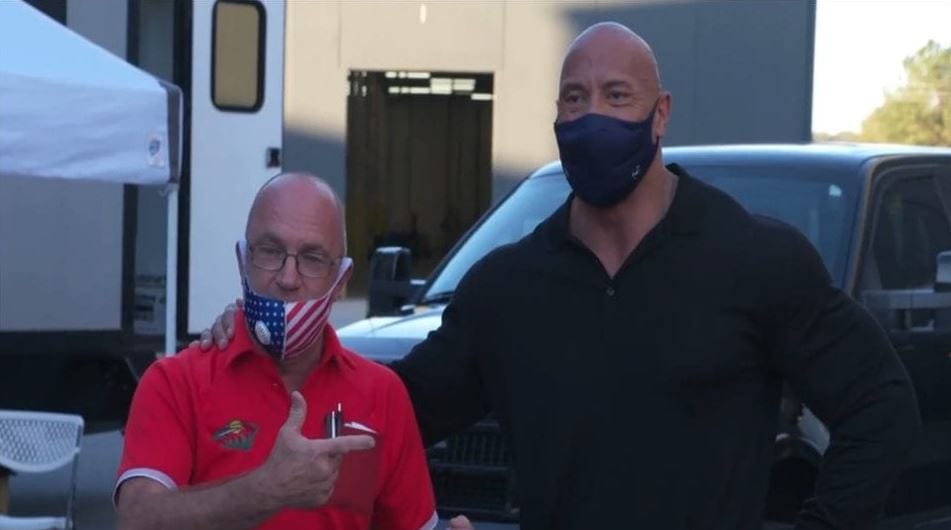 Later on, Bruno also served the role of a referee in WWE. Also, if you remember, Dwayne "The Rock" Johnson's good friend is also the first man to win the WWF Women's Championship. But soon lost it to Jacqueline.
Bruno's role in the life of Dwayne Johnson is massive. He is indeed a true friend, and The Rock values him highly in his life for all that Bruno did for him.