Ric Flair is an iconic figure in the wrestling industry. He is perhaps the greatest wrestler of all time. Ric is a sixteen-time World Champion in WWE and holds that record along with John Cena. The Nature Boy stopped wrestling a while ago, but he still appears on WWE TV often.
His fans do not complain since they love seeing the WWE legend do what he does best. Recently, Flair is absent from WWE TV altogether and it looks like it's not only the fans that miss him.
Turns out WWE Superstar Lacey Evans is remembering her time with the 2-time WWE Hall of Famer fondly. However, what she said might not rub well with many people. Consequently, she has deleted the tweet. The tweet by Evans said.
"Throwback to when I got ready to do a segment of RAW with @RicFlairNatrBoy and he tells me he's 'in the mood for some Hooters' after seeing me. [laughing emoji] #RAW,"
Lacey Evans quickly deleted the post, probably sensing that it might get backlash from the fans and WWE.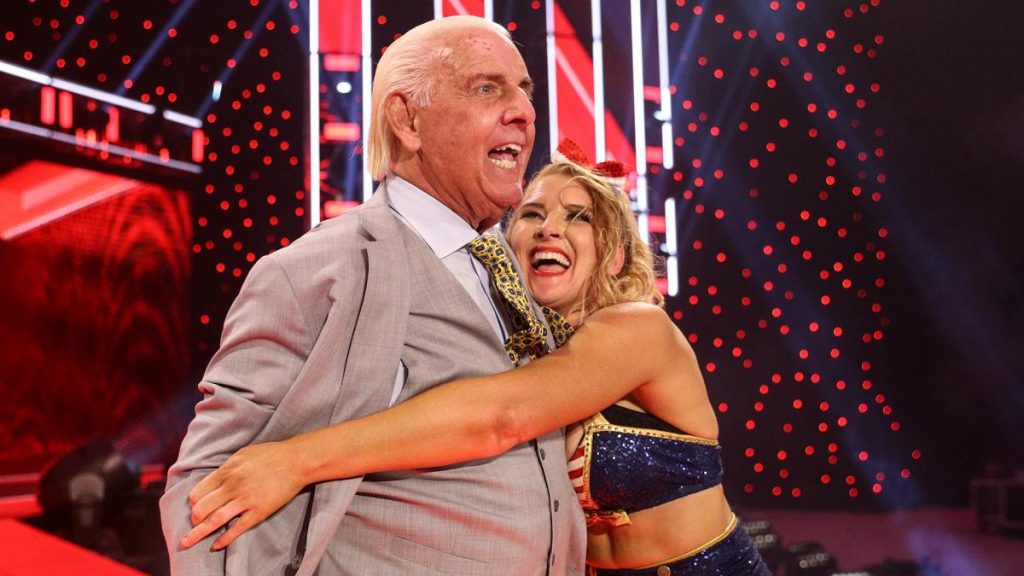 Lacey went off WWE TV in the middle of a feud with Ric Flair's daughter, Charlotte Flair. The reason for Evans going off-air was that she announced her pregnancy, live on Monday Night Raw in early 2021.
While she is active on social media, there is no information on when she will return to WWE. She was involved in a controversial romantic angle with Ric Flair, as both of them turned on Charlotte. Moreover, it is also unknown whether, upon her return, she will continue her feud with Charlotte.
Similarly, it is also unknown if the two-time WWE Hall of Famer will return to WWE himself.
Is Ric Flair still with WWE?
Ric Flair wrestled in WWE for many years and earned a lot of accolades. He retired from WWE in-ring action in 2008 following a loss to Shawn Michaels at WrestleMania 24. Since then, Ric has featured on WWE TV in various roles, mostly managerial, along with his daughter Charlotte.
He also did a brief program with Randy Orton in 2020. But his latest stint was with Lacey Evans and Charlotte Flair in 2021, after which he officially cut ties with WWE. Ric is no longer in a contract with WWE.
As Ric Flair said himself that he is on good terms with WWE, the realm of possibility of him returning still stays open. Only time will tell whether WWE and Flair will come on agreeable terms regarding his future with the company.