The WWE Hall of Famer Stone Cold Steve Austin has a special place in the hearts of fans. Stone Cold Steve Austin has a hardcore persona that would intrigue anyone even outside the squared circle.
Now imagine a WWE Hall of Famer who tapped out Hulk Hogan in a submission maneuver had a child-like feeling when he met The Texas Rattlesnake. At the King of the Ring 2002, Hulk Hogan witnessed the impossible. Hulk Hogan found himself in the Angle lock submission by Kurt Angle.
Yes, Olympic Gold Medalist Kurt Angle was excited and nervous at the same time when he met Stone Cold Steve Austin at WrestleMania 38.
Why was Angle worried about meeting Stone Cold Steve Austin?
Kurt Angle's wife Giovanna revealed that Angle wasn't entirely sure if he should approach Stone Cold behind the curtains of WrestleMania 38. The Texas Rattlesnake was gearing for his match against Kevin Owens after 19 years.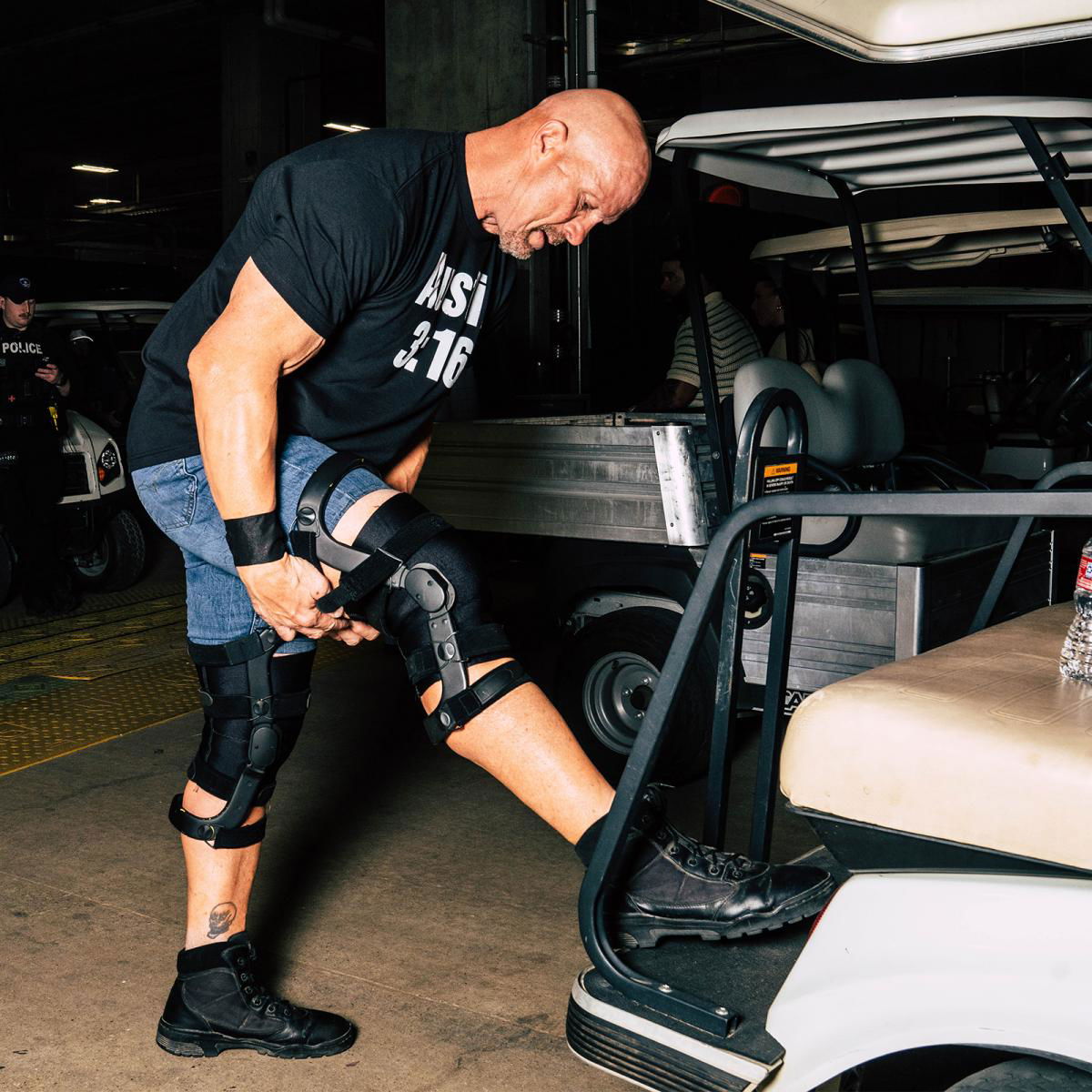 For this match, of course, Steve Austin trained and worked out a lot. So naturally, The Texas Rattlesnake was in great shape ahead of his battle against Kevin Owens.
On the latest episode of the Wives of Wrestling podcast, Giovanna Angle described the Olympic Gold Medalist's reaction to approaching Stone Cold.
Kurt Angle's wife mentioned, "He [Kurt Angle] felt weird about that for a second because he said he was getting flashbacks. You don't go up to people while they're getting ready for their match. But he felt like, 'Damn, am I being disrespectful that I didn't go up to him?' He didn't want that. So, he went up to him, and Kurt came back, and I was like, 'Oh, how did it go?' He was like, 'Steve was Steve."
Even the co-host of the show and Randy Orton's wife, Kim Orton, saw Steve Austin pacing throughout WrestleMania backstage. Since many people were coming back and forth to meet The Texas Rattlesnake, Kurt did not understand if he should walk up to him.
What was Kurt Angle's reaction when he met The Texas Rattlesnake?
The Olympic Gold Medalist finally gathered his courage and eventually strolled up to Steve Austin. The Texas Rattlesnake took his timeout to greet Kurt Angle as the two old pals shook hands. According to Giovanna Angle, this was almost the happiest moment of Kurt Angle's life.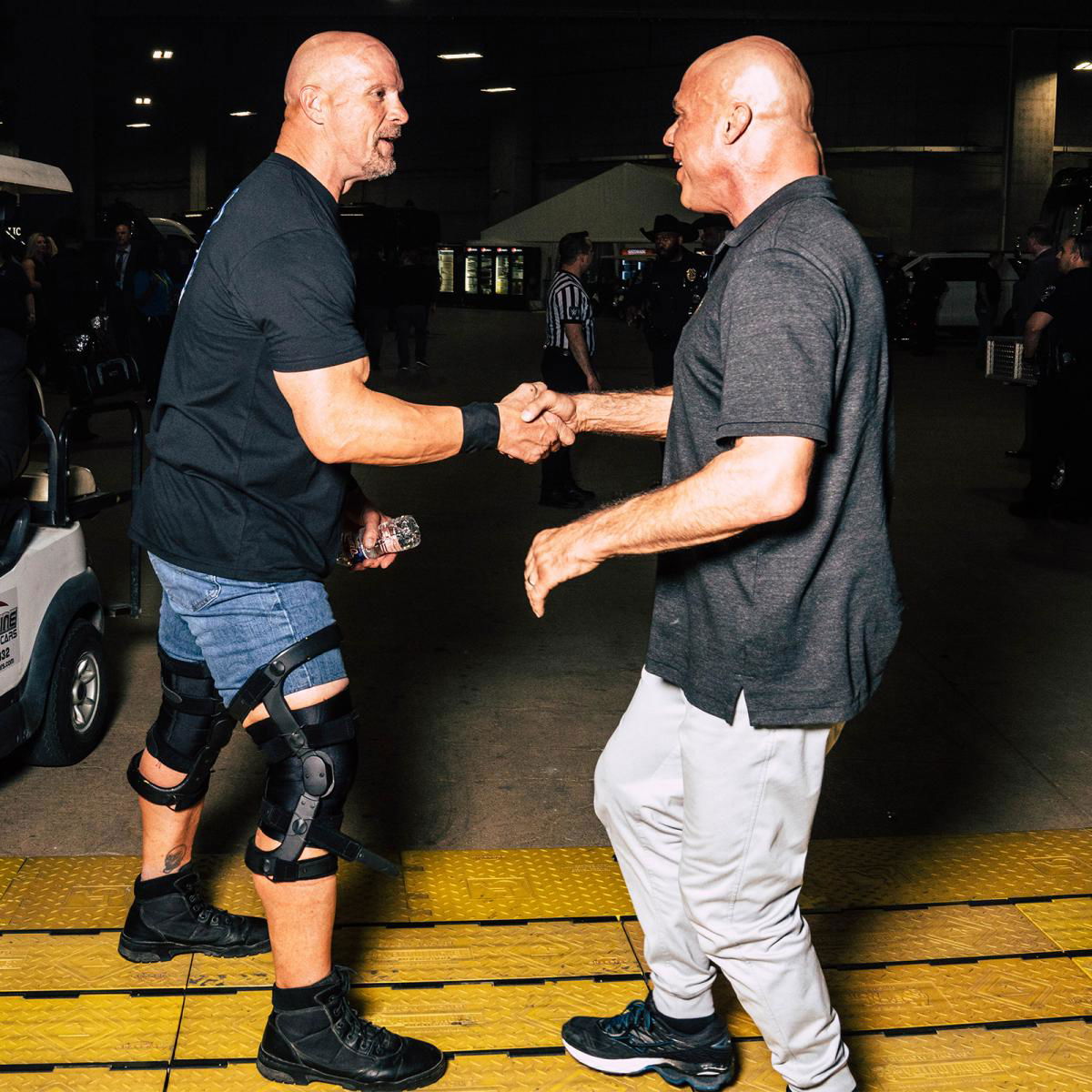 "He said something like, 'Steve was happy to see me, and he knows he's the man.' Kurt was like, 'I dig it. That's the Steve Austin I know. God, he looks so good, and he's going to knock the crowd out.' Whenever I came back to Kurt, he was in a golf cart. He's like, ' [Stone Cold Steve Austin] is a wrestling god, and he will always be one,'" Giovanna Angle added.
The WWE Hall of Famer was super impressed by Stone Cold's insane physique. Angle wouldn't stop calling Austin "a wrestling god," Giovanna mentioned. It was difficult for Angle's wife to talk about anything else on WrestleMania night. That was because it overwhelmed Kurt Angle to meet and watch Stone Cold Steve Austin in his hometown Texas.
Indeed, a 53-year-old Olympic Gold Medalist had his WrestleMania child-like moment of meeting The Texas Rattlesnake this year.