mentions it. It's at a point where he doesn't even induct legends into the Hall of Fame, but there's always an exception – The Undertaker.
As WWE fans know, WWE announced that The Undertaker is going to be in the Hall of Fame. That being said, the question was – who would induct him? It was a given that WWE would let Taker choose whoever he wants to.
Well, it's chosen!
In Vince McMahon's own words – "I'm going to have the distinction of inducting him in the Hall of Fame."
The only other person he has done this for is Stone Cold Steve Austin. Keeping in mind Taker is the second person he's doing this for proves how much The Undertaker means to him and to WWE itself.
The Big Man revealed this information during his appearance on the Pat McAfee Show. It's a huge revelation during an interview, which is McMahon's first one in fifteen long years!
The Undertaker and Vince McMahon became family
During the interview, The Big Man revealed what Taker meant to him.
It so happens that they spent quite a bit of time on the road together. And, when the Superstars are on the road together for so long, they become family.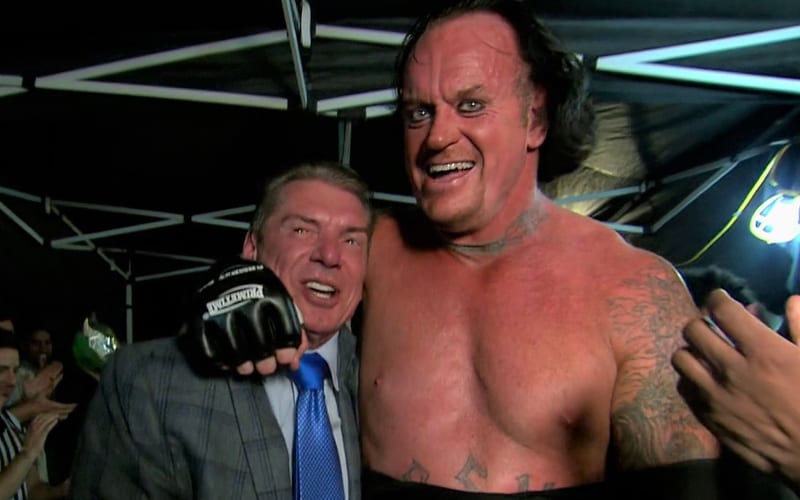 The Undertaker and McMahon spent an immense amount of time together, and they became family.
In fact, Vince McMahon revealed that The Deadman was the guy he could trust with his eyes closed. Taker was the man who always had McMahon's back!
"You have to have people you can count on, rely on, they're loyal. And, trustworthy. Not having to look over your shoulder. He's that kinda guy. He's an extraordinary human being."
Considering the bond they have, it's understandable why inducting Taker into the WWE Hall of Fame is one of the most difficult things he has to do.
However, the WWE Universe will have the fortune to witness The Undertaker and Vince McMahon share the stage when the Hall of Famers make an appearance at WrestleMania 38.