Kevin Owens and Stone Cold Steve Austin are finally going to come face-to-face inside the ring at WrestleMania 38.
Not only will this be a special moment for Steve Austin and his fans, but it is also going to be very special for Kevin Owens.
Owens has fired shots at Stone Cold Steve Austin recently. But in interviews, the WWE Raw superstar has broke character to praise Austin.
He even admitted he always looked up to the Texas Rattlesnake from a young age.
And now, just before their face-off at WrestleMania 38, Kevin Owens felt short of words to describe his feeling about sharing the stage with Stone Cold Steve Austin at WrestleMania.
The former WWE Universal Champion posted an emotional video on Twitter, revealing his reaction ahead of WrestleMania 38.
Kevin Owens said, "I have been doing this for 22 years. And I have had a lot of absolutely amazing moments throughout those 22 years. But I really can't put into words what I am feeling right now."
"Because in less than 24 hours, I am going to be in the ring in the main event of WrestleMania for The Kevin Owens Show, something I created, with Stone Cold Steve Austin," he added.
After saying so, Owens kept silent for some time. It looked like he did not know how to describe that feeling in words.
Getting to share the squared circle with someone like Steve Austin will be special for a lot of WWE superstars. And Kevin Owens is just one of them. It is indeed going to be a dream come true moment for the WWE Raw superstar.
Is Stone Cold Steve Austin going to wrestle against Kevin Owens at WrestleMania 38?
Unfortunately, in 2003, Austin had to retire from in-ring competition because of severe injuries.
Though he made sporadic appearances in recent times, he had not competed in a match since WrestleMania XIX.
This year ahead of WrestleMania 38, there were strong rumors of the Texas Rattlesnake once again competing in a match.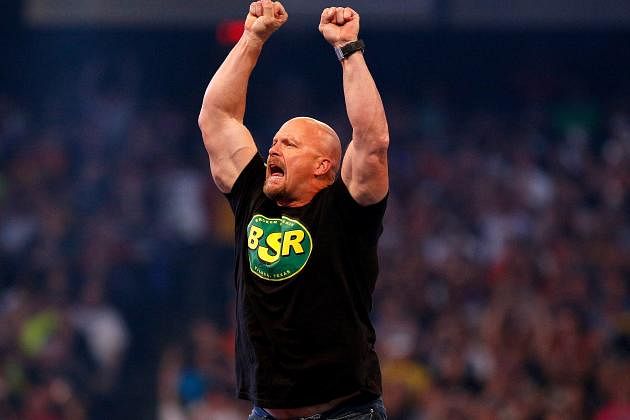 But as things stand, it is only going to be a segment with Kevin Owens on The Kevin Owens Show at The Grandest Stage of Them All.
After all that Kevin Owens had said about Texas recently, one can also expect a heated confrontation between Owens and Austin. People might also see the WWE Hall of Famer hitting the stunner on Owens or vice versa.
It will be really interesting to see how this special episode of The Kevin Owens Show unfolds with Steve Austin as the guest.