Stone Cold Steve Austin's impersonations seem to be the trend of the day after what happened at Monday Night Raw. After Kevin Owens' stunt on Raw, it looks like Hulk Hogan is also joining the fun as he gave his best Stone Cold impression.
WWE Hall of Famer Hulk Hogan impressed his fans again with his promo skills. The Hulkster has not lost a beat as he is still one of the best on that microphone.
Hulk Hogan posted a live video of him on his Facebook, where he was at his bar. The bar was, as usual, filled with some of Hulkster's fans and also WWE Superstar Jinder Mahal and WWE legend Jimmy Hart. Moreover, Hogan took to the microphone to welcome and entertain his fans as they watched WWE Raw live.
He paid a brief tribute once again to his friend Scott Hall, who passed away last week. Later, he thanked fans for their passion and understanding regarding the subject. However, he then hyped up the audience for his weekly karaoke party by doing a Stone Cold impression. Hogan used Austin's infamous catchphrase "give me a hell yeah!" many times.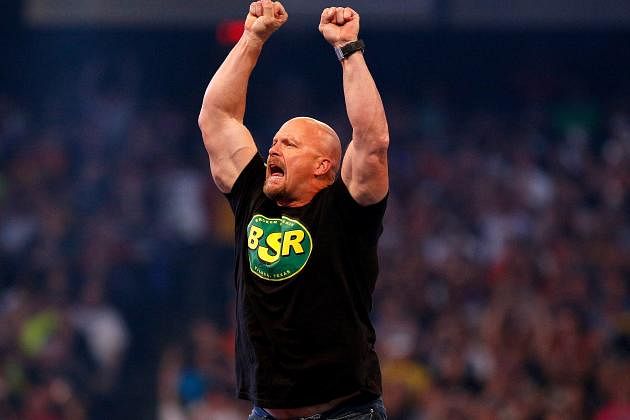 Ironically, Monday Night Raw was playing on the screens at the bar, where Kevin Owens had done the exact same thing. Kevin Owens openly mocked Stone Cold by dressing up as him and insulting him.
While Owens' impersonation was done to get under Austin's skin, Hogan's impression was done out of respect for Stone Cold. As of now, 'The Texas Rattlesnake is yet to respond to Owens' tactic.
Has Hulk Hogan ever faced Stone Cold Steve Austin in a match?
Stone Cold Steve Austin and Hulk Hogan were both faces of the WWE during their respective eras. They are two of the greatest WWE Superstars of all time. While Hogan was the face of WWE in the 1980s to early 1990s, Austin dominated WWE in the late 1990s. However, both these legends have never faced each other in a one-on-one match.
Austin, being the top star of WWE, had to compete with the popularity of WCW's top star in Hogan. Hence, they competed against each other in some way.
In the end, WWE won the war and Hogan had to make his way back to WWE. However, much to the dismay of WWE fans, he never faced Stone Cold.