Brock Lesnar and Dwayne 'The Rock' Johnson have kept a wonderful friendship since their first meeting. Despite the obvious differences in their personalities, as The Beast is not a very sociable one and The Rock is an all-around entertainer, the two had hit it off both in-ring and in real life.
Moreover, 'The Great One' has appeared in a few UFC matches as well, to show his support for Lesnar. Here, in Lesnar's most memorable match vs the Undertaker in SummerSlam 2015, The Rock is present at the backstage to cheer up his buddy.
Brock Lesnar and The People's Champion
Dwayne Johnson has never shied away from being an entertainer to the billions of his fans. There are only a few pro wrestlers who have been this successful as a global brand. On the contrary, 'The Conqueror' earned his accolades and gained popularity by being the hardest opponent anyone could ever wish for.
Back in Lesnar's UFC days, The Rock has attended the event and visited the then-UFC Champion in the locker room. In a rare photo posted on Facebook, The Rock is again at the backstage hugging and chatting with Lesnar, just before his big match vs The Undertaker.
However, the two WWE Superstars initially met on the fifteenth annual SummerSlam in 2002. The match between them was the most anticipated one in the event. As many expected, the youngest Heavyweight Champion in history sent The Rock packing for Hollywood.
When The Beast Ended Taker's Streak
Whenever Brock Lesnar makes an entrance, he comes as a storm. At WrestleMania 30, it shook the world of pro wrestling when The Undertaker had to fall before Lesnar.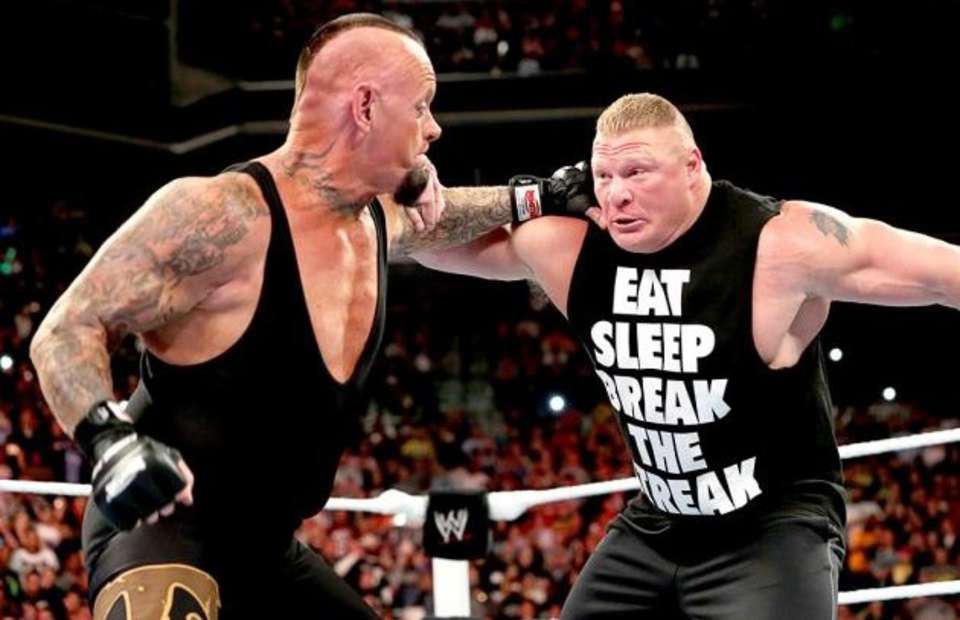 Though many wondered if Lesnar was the right one to end the legendary streak, it couldn't have been better than The Beast Incarnate defeating the scariest 'Deadman'. The time was perfect for Undertaker, but the match was not something he could take as most memorable.
After the match, Taker said, "Somewhere within the first five minutes of [my match against Brock Lesnar at WrestleMania 30], I get concussed. I don't even remember this night. My last memory I can definitively tell you happened at about 3:30 in the afternoon when my wife came backstage and we had a conversation. That's the last thing that I remember on my own of that day." [H/T Pro Wrestling Stories]
ADVERTISEMENT
Article continues below this ad
However, Lesnar became the most irreplaceable icon in WWE history after that.
This WrestleMania 38, 'The Beast Incarnate' is facing the Universal Champion Roman Reigns for a 'Winner Take All' match.