Seth Rollins interrupted the American Nightmare, but it was an entirely friendly welcome to Rhodes, who came back to WWE after 6 years. Moreover, in a post-RAW interview, Rollins talked about WrestleMania 38, Cody Rhodes, star ratings, and interestingly, about WWE and AEW. 'The Aerialist' subtly fired a shot at AEW, speaking about the difference between other pro-wrestling companies and WWE.
Seth Rollins Talks About WWE and 'The Forbidden Door'
Seth Rollins has earned his place among the WWE superstardom over the years both through 'The Shield' and solo. 'The Monday Night Messiah' is also a two-time WWE and Universal Champion, a record 6-time Tag Team Champion, and has various other achievements in the company.
At WrestleMania 38, his surprise opponent turned out to be the former WWE superstar who later went to AEW. Further, the match was spectacular but in the end, turned out to be all about 'The American Nightmare'.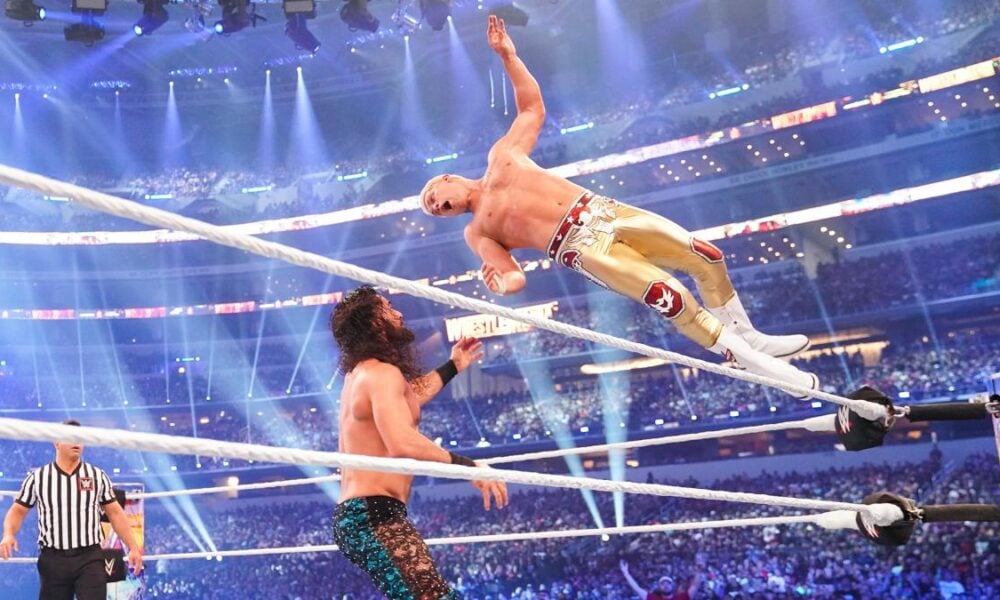 After appearing on  Monday Night RAW to appreciate Cody Rhodes, Seth Rollins gave an exclusive interview to Gorilla Position. In this, the topic of the 'Forbidden Door' that implies wrestlers shifting from WWE to other wrestling companies or vice versa came up.
The interviewer asked who he would like to see next coming back to WWE, and Rollins said, "Oh man. Anybody who wants to come work in the big leagues."
Furthermore, Rollins laughed and continued, "This is the premier professional wrestling company on the planet. I know. "Oh, don't say professional wrestling". It doesn't matter."
He added, "'If you want to be the best, don't go play ranky-dank. Come here, do your thing here. We are the best." '.
Rollins Welcomes Cody Rhodes 'Home'
Moreover, Cody Rhodes had a great segment on the latest Monday Night RAW, as he fought with Kevin Owens and cut a beautiful promo as well. During the promo, he emotionally spoke about his legendary father and how much the title means to him. Rhodes also praised Seth Rollins, calling him "one of the best superstars of any era".
During the segment, Seth Rollins entered the ring, and briefly stared down at Rhodes as an after-action of the loss. Then the duo had a handshake and Seth Rollins said, "Welcome Home" to Rhodes before returning backstage.
Clearly, this indicates there is no bad blood between them. However, it's not clear who will be the next opponents for each of them, but WWE most certainly has bigger plans for Cody Rhodes.