WrestleMania 38 had several special moments, from title changes to shocking returns. The WWE Universe witnessed it all. The comeback of Cody Rhodes and Stone Cold Steve Austin was especially amazing, and the fans enjoyed their favorite superstars back in action. But one superstar that the fans must have missed at the AT&T Stadium is John Cena.
The former WWE Champion has not appeared on WWE television for quite some time now. He once again missed WrestleMania, and the reason behind this is his acting career.
Currently, John Cena has been busy filming his upcoming films. And 'Coyote vs. Acme' is one of them.
Fightful Select noted that John was filming for 'Coyote vs. Acme'. Thus, he was not present at WrestleMania 38.
Several fans consider John Cena as one of the greatest of all time in WWE. And now, he has also impressed everyone with his acting skills.
Cena is not only a WWE legend right now, but he is also a top Hollywood actor.
In recent times, he had a massive growth in his acting career. And the future looks bright for the former WWE Champion.
However, even though he could not make it to Mania, he had a message for WWE on Twitter, congratulating everyone for WrestleMania 38.
Everyone is aware of Cena's passion for pro wrestling and WWE. And fans hope that they will not have to wait for too long to see John Cena back in action in WWE.
When did John Cena last wrestle in WWE?
John Cena last appeared on WWE television back in 2021. The former WWE Champion made a shocking return to WWE at WWE Money in the Bank Premium Live Event in 2021.
On his return, he set his sights on Roman Reigns and the WWE Universal Championship. Cena once again felt the love of the WWE fans as he challenged Roman Reigns.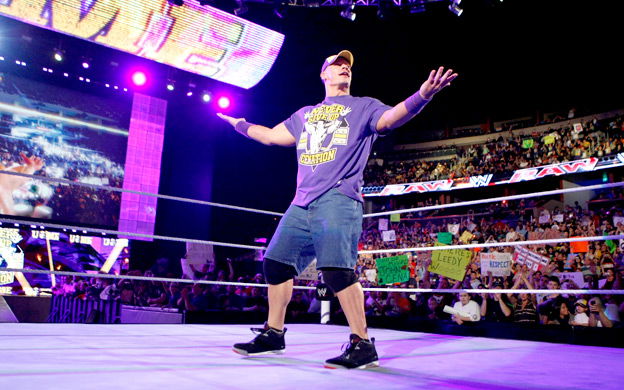 However, at WWE SummerSlam 2021, Cena failed to capture the WWE Universal Championship as the Tribal Chief defeated him.
Many believe this match to be Cena's last pro wrestling match in 2021. But this is not the case.
A few days after his loss against Reigns, Cena competed in a dark match on WWE SmackDown.
He teamed up with Rey Mysterio and Dominik Mysterio to take on The Bloodline. This tag team match was Cena's last WWE match in 2021.