Austin Theory recently talked with WWE CEO Vince McMahon, sharing his concerns about Vince appearing on The Pat McAfee Show. The WWE Rising Star also offered to guard the 76-year-old CEO if the interview turns into an aggressive situation.
McMahon appeared on the latest Monday Night RAW episode and Theory there talked about Mr. McMahon's upcoming interview on the Pat McAfee podcast show. Austin Theory offered to protect Vince as he worries that the host might get aggressive and offered McMahon his support.
Moreover, Theory brought up McMahon's interview with Bob Costas 20 years ago, which annoyed the interviewee and made him want to "beat up" Costas. The last sit-down interview of McMahon was with Michael Landsberg, also 20 years ago, in which the CEO flipped papers off the hands of the host.
Additionally, Austin Theory talked about Pat McAfee, who is a former NFL player, and his podcast show. However, Vince McMahon assured Theory that it's not that kind of interview before walking out.
Vince McMahon is appearing in WrestleMania?
McMahon has made a few appearances in the past months with Austin Theory. But, an in-ring return will be an absolutely thrilling event. As rumored on social media platforms and by various commentators, McMahon can fight talk-show host Pat McAfee on this WrestleMania 38. After all, it's his entertainment and anything could happen.
Meanwhile, as the rumors spread, WWE Legend Booker T said it would be inspirational to see Vince McMahon back in the ring. "I read Vince (McMahon) would probably be part of a storyline at WrestleMania 38. I don't know what that actually means."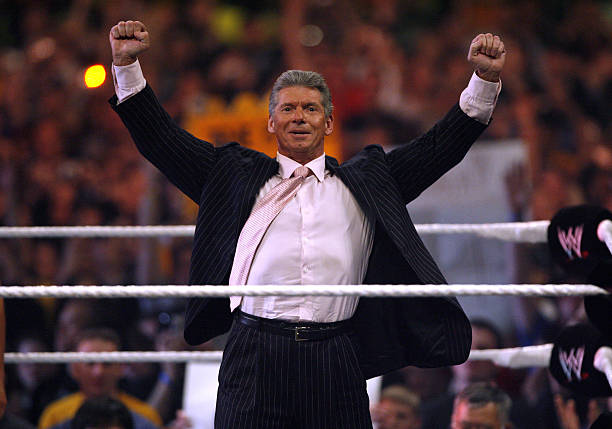 "But, if Vince were to lace 'em up and get back in the ring at, what 76? It would definitely be something men should be inspired seeing, honestly. I say it all the time, how are you going to tell a man he can't do it no more? How are you going to tell a man you're just too damn old, just stay at the house and don't ever come out?" Booker said while talking on the Hall of Fame podcast.
Furthermore, the hints to a possible feud will reach an end on Thursday at the McAfee show. Pat McAfee has a history of feuds and controversies as he interviewed former NXT champion Adam Cole on his show. It resulted in the SmackDown commentator fighting his first match at 2020 WWE NXT Takeover XXX.
What are your thoughts on Vince McMahon's interview and return rumors? Comment below