What can be a perfect way for 'The Game' Triple H to start his WrestleMania weekend? The wrestling fans imagined Triple H wouldn't attend The Stupendous WrestleMania 38, but he is in Dallas, Texas!
Paul Levesque, aka Triple H, announced his official in-ring retirement earlier this week. Last year when Triple H took time away from the company, the WWE reported it was due to a cardiac event. But during a recent interview with Stephen Smith on ESPN, Paul revealed that his heart condition wouldn't allow him to get back in the ring again.
Even though The Game won't compete inside the ring, he plays a role backstage, which is also an important one. Triple H is the WWE Executive Vice President of Global Talent Strategy & Development.
14-time World Champion Triple H joined the Dallas Cowboys!
Triple H was present at the home of the Dallas Cowboys World Headquarters and state-of-the-art practice facility.
In addition, The Game met the Dallas Cowboys players Anthony Brown, Jourdan Lewis, Ezekiel Elliott, and Dak Prescott at the tryouts.
He also cut a promo for the fans of the Dallas Cowboys team on their social media, inviting them to The Biggest Show of the Year.
"Hey Cowboys Nation, this is The Game, Triple H. We are here in here in Texas talking to all of you guys because this is an epic weekend. Everything is bigger in Texas, and this weekend is no exception. This weekend, WrestleMania – the most stupendous event in history. Trust me; you don't want to miss it. Go to seatgeek.com and get there. Don't miss it," Triple H stated.
The 14-time World Champion stood tall for the Dallas Cowboys as he became a part of the team. A week after announcing his retirement, The Game is back in action, but not inside the ring.
Why was The Game at Dallas Cowboys headquarters?
Before WrestleMania 38, The Game was trying to do his backstage job scouting new talents in the WWE. Several weeks ago, the company announced tryouts for current and recently graduated college students.
The WrestleMania tryouts began on Wednesday and ran throughout Friday. The company hosted over 50 male and female talents with athletic backgrounds in basketball, wrestling, football, gymnastics, volleyball, track, and field.
WWE Performance Center and WWE NXT staff accompanied Paul Levesque in Texas to scout young talent in the company.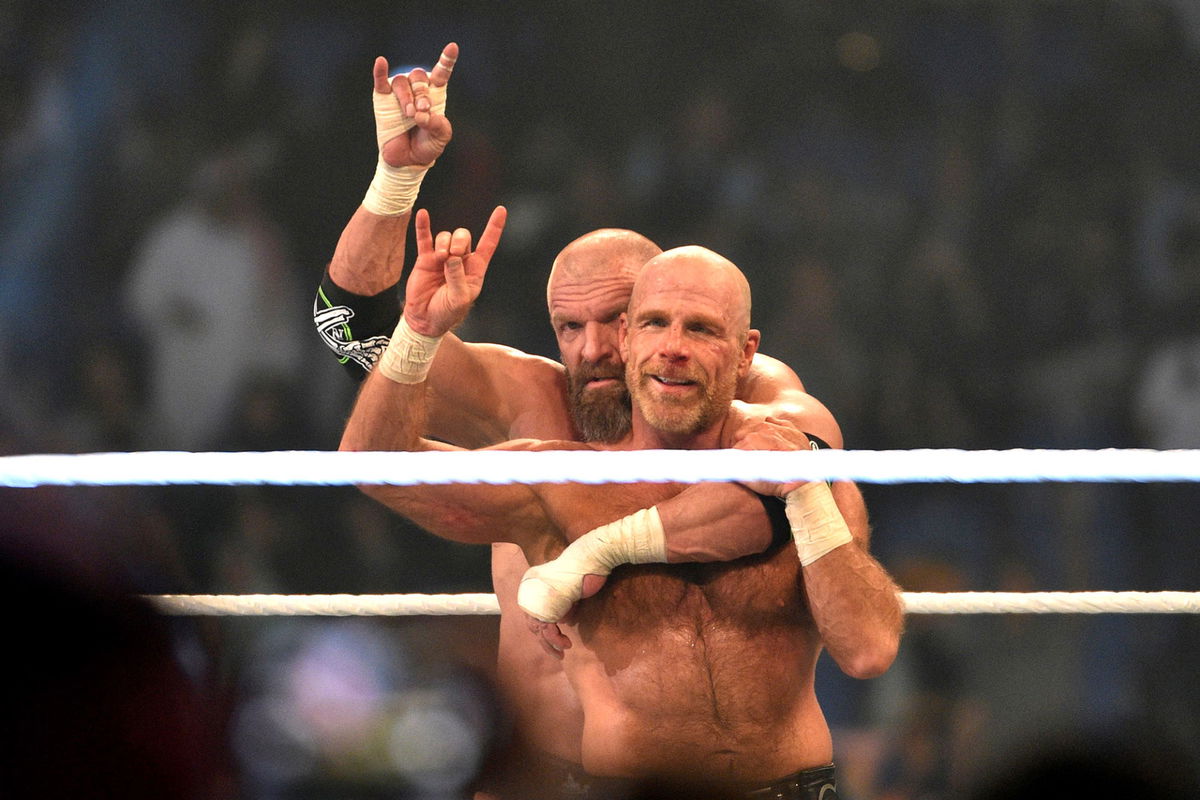 Paul Levesque's best friend and WWE Hall of Famer Shawn Michaels also tagged him to recruit wrestlers from Dallas. So, during the first day of the WWE tryout, the players from the Dallas Cowboys team stopped by to greet The Game.
The Game and The Heartbreak Kid also revealed The Undertaker's statue before his WWE Hall of Fame induction.
These two men are the greatest rivals of The Deadman on-screen. However, it was an incredible moment when Triple H and Michaels honored The Undertaker.