Soon to be WWE Hall of Famer, The Undertaker is the epitome of success in the sports entertainment industry. The former World Champion entertained fans of all ages for over three decades. However, his most notable highlight was his WrestleMania streak.
However, there was a time when 'Taker had to take matters into his own hands when WWE producer, Michael Hayes, wanted him to just have a fifteen-minute match at WrestleMania 25.
WrestleMania 25  is famous for the epic match between The Undertaker and Shawn Michaels. The match was regarded as one of the best matches in either man's career. And to pull it off on the 25th anniversary of WrestleMania was a sight to behold.
WWE producer Michael Hayes wanted that epic match between The Deadman and Mr. WrestleMania to go on number 3. This didn't sit well with 'Taker as he confronted Hayes and let him know his feelings about it.
Speaking on the latest episode of Chat Grapple and Cheap Pops podcast, former WWE referee Marty Elias revealed that the match was originally meant to be a third of the night.
"We're sitting there and 'Taker looks at Shawn and he goes, 'Shawn, how long you been with this company?' Shawn goes, 'Most of my life.' And he goes, 'Hmm, 15 minutes? Third? That ain't gonna fly.' Michael Hayes, 'Oh, hey, hey, I'm gonna go talk to Vince. Don't worry, we'll see if we can get it changed,'" he said.
Surely, 'Taker must've got his word across Vince's ear. Because the match between Undertaker and Michaels was the seventh match of the night. Interestingly, the match was twice as what Hayes originally wanted it to be: 30 minutes and 30 seconds.
The Undertaker nearly broke his neck during that match
To say that the match was good would be an understatement. The two performers put their heart and soul into the match. However, there was a spot when 'Taker had to perform a high-flying maneuver on Michaels.
Michaels was outside of the ring, and The Undertaker had to perform a top rope dive on HBK. However, it was a planned spot where Michaels had to grab a nearby cameraman and the cameraman would take the damage.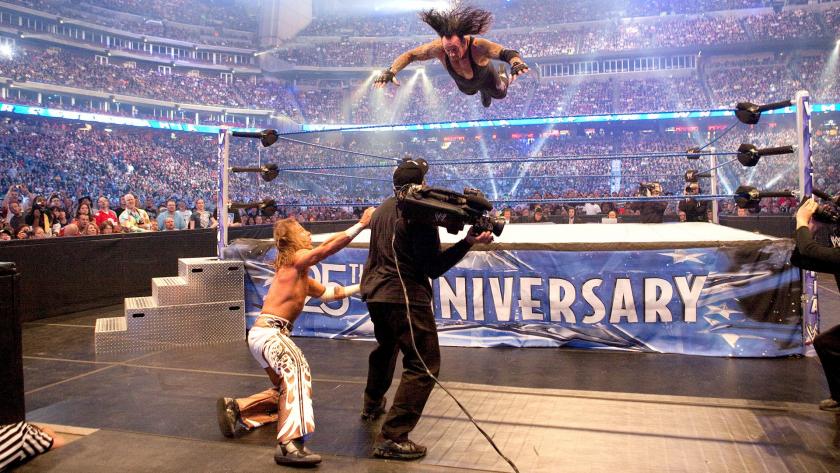 However, all the three men involved missed their queue and 'Taker landed on the cameraman who couldn't catch and both the men fell awkwardly.
Thankfully, nothing happened to either man, and the match went on. Undertaker eventually defeated Michaels to continue his WrestleMania streak.