Almost every WWE fan loves the WWE chairman for the incredible work that he has done for so long. But soon a time might come when the 76-year-old will have to retire.
In recent years, there has been a lot of talk in the pro wrestling world about Vince's retirement and his successor.
Recently, the Chief Brand Officer of WWE and Vince McMahon's daughter, Stephanie McMahon, opened up about her father's WWE retirement plans.
In a conversation with Mike Piellucci of D Magazine, Stephanie said, "He [Vince McMahon] has said, I think, publicly that he will 'die in the chair.'"
"We'll see. Who knows? Life is long and unpredictable, but somehow, I don't see him retiring anytime soon," she added.
After Stephanie's update on Vince McMahon's retirement plans, it looks like Mr. McMahon has no plans of retiring soon. But if he retires, there will be several responsible candidates to succeed him- Stephanie McMahon will be one of them.
Just like her father, Stephanie McMahon is also having success in the business world. Thus, she can be an ideal replacement should Mr. McMahon retire.
But for now, Vince McMahon is not only going strong outside the ring, but also inside the ring. At WrestleMania 38, the 76-year-old shocked everyone as he once again competed in a match.
Vince McMahon defeated Pat McAfee on his return to in-ring competition at WrestleMania 38
Prior to WrestleMania 38, there had been strong rumors of Vince competing in a match at WrestleMania against Pat McAfee. However, those rumors faded away after Austin Theory got confirmed as Pat McAfee's opponent at 'The Showcase of The Immortals'.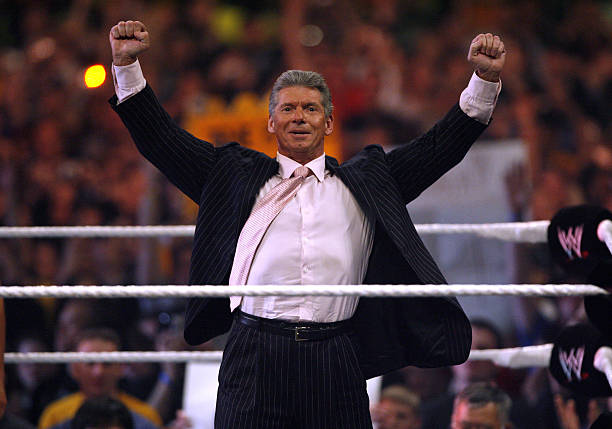 After the former Colts punter picked up an impressive win over Austin Theory, Vince McMahon had a surprise for the WWE Universe. He took on Pat McAfee in a match at The Grandest Stage of Them All.
Following some help from Theory, Mr. McMahon dominated McAfee throughout the match before pinning him successfully for the win.
This contest, on Night Two of WrestleMania 38, came as a major shock for almost every WWE fan as no one could imagine the 76-year-old Vince McMahon wrestling once again in front of a live audience.