Celebrities appearing and even having matches in WWE is not uncommon. The live arena experience of WWE has always lured superstars from all fields into the ring. Moreover, their appearances have also benefitted the company. Muhammad Ali, Mike Tyson, Shaquille O'Neal, Jon Stewart, and Hugh Jackman are a few among the notable celebs to step inside the ring.
Even Hollywood megastar Arnold Schwarzenegger has appeared in WWE events more than once. Here's a throwback to the former governor of California joining hands with Hulk Hogan and 'Magic Mike' actor Joe Manganiello to kick 'The Miz' out of the ring.
Arnold Schwarzenegger's appearance on Monday Night RAW Alongside The Hulkster
The WWE universe has always been cheerful to watch the toughest action hero of Hollywood have a go in the squared circle. Moreover, he has a long friendship with WWE Chairman and CEO Vince McMahon and Triple H.
In 2014 in an episode of Monday Night RAW, Arnold Schwarzenegger appeared in the ring along with the 'True Blood' star Joe Manganiello and the WWE legend Hulk Hogan.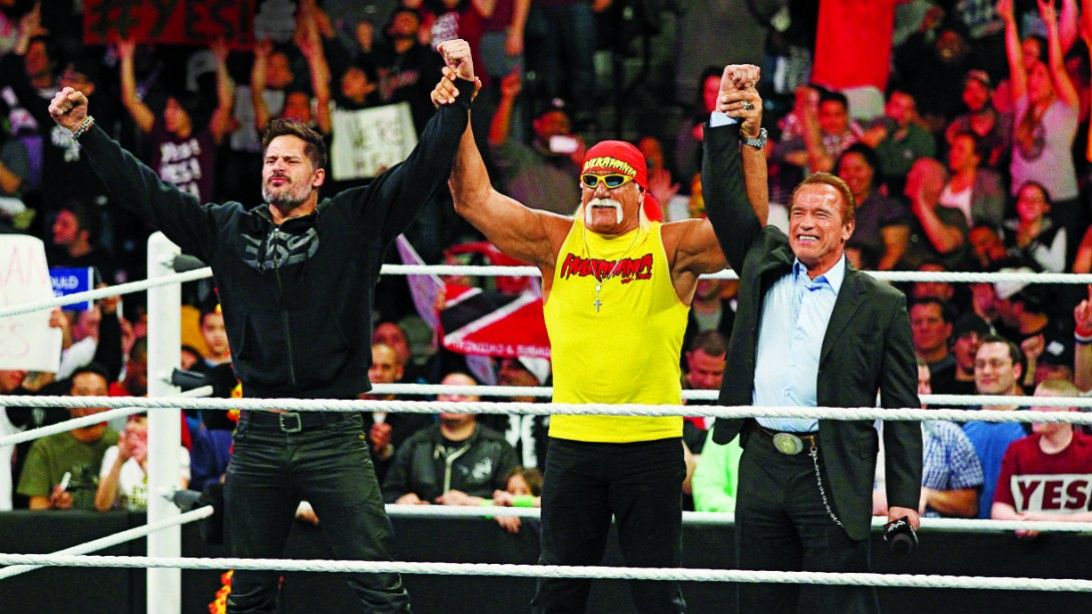 The 'Predator' actor complimented the Hulkamania, saying "Look at this guy here with his pumped up biceps, look at the triceps, look at the deltoids, look at the pectoral muscles. Wow, give him a big hand, this man is the real deal!".
Also, Arnold spoke about his friendship with legendary wrestler Andre the Giant, telling Hogan that he and Manganiello would be happy to partake in the Andre the Giant Battle Royal.
Further, as the two legends praised each other, 'The Miz' came in with his theme song 'I Came to Play', interrupting the audience's cheers. Moreover, the iconic RAW heel delivered a bit of trash talk, taunting the legends, telling them that they didn't belong there. Eventually, the trio easily handled 'The Miz' and threw him out of the ring.
ALL WWE Appearances of 'The Terminator'
'The Running Man' first appeared on WWE in 1999 SmackDown. In that episode, Mr. McMahon presented the "World Box Office Championship", a replica of the WWE Title, to Arnie. Also, he had a match against Triple H in which he beat 'The Game' with a couple of vicious punches.
In 2013, the former Mr. Olympia did the honor of inducting WWE legend Bruno Sammartino into the Hall of Fame. Furthermore, In 2016, Triple H took part in the Arnold Sports Festival and shared a ring with him. Triple H had also been a part of the Q&A session with Schwarzenegger and moderator Corey Graves in Ohio.
Do you remember Schwarzenegger's WWE appearance? Do you think he will make an appearance in WWE again? Let us know.