Brock Lesnar is one of the biggest names in professional wrestling. Ever since he made his WWE debut, he caught everyone's attention and soon rose higher up the ranks in WWE.
He is still the youngest WWE Champion. Today, he is one of the most successful pro wrestlers. But pro wrestling is not his only passion. The Beast Incarnate had a keen interest in football since his childhood days.
Following his WrestleMania match against Goldberg in 2004, Lesnar took a gigantic step. He left WWE to pursue a career in football. WWE even issued an official statement and wished Lesnar good luck in achieving his football dream.
How did Lesnar do in the NFL Combine?
Brock Lesnar had a positive start in pursuing his dream of playing in the NFL. He recorded some impressive numbers at the NFL Combine. And thus, he grabbed the headlines, and all eyes were on the WWE superstar.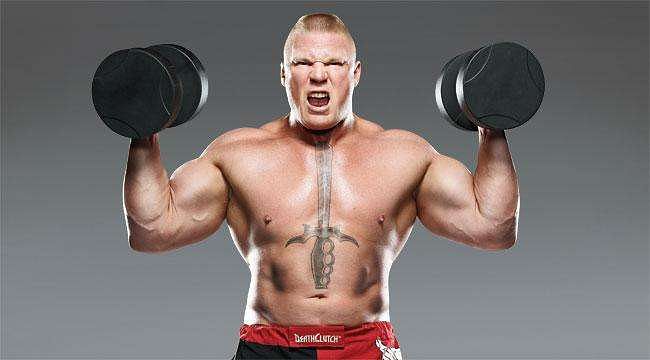 His numbers at the NFL Combine reads 40-yard dash in 4.7 seconds, Vertical jump: 35 inches, Broad jump: 10 feet, and 225 lb bench press: 30 reps.
These are some very impressive numbers. And Lesnar looked destined to play in the NFL following such an amazing performance at the NFL Combine.
Did Brock Lesnar actually play in the NFL?
Several former WWE superstars tried to pursue a career in football. But many failed to gain success. And one might include Brock Lesnar on that list.
But there is a major reason for his downfall in football. After the NFL Combine, Lesnar met with an accident on his motorbike.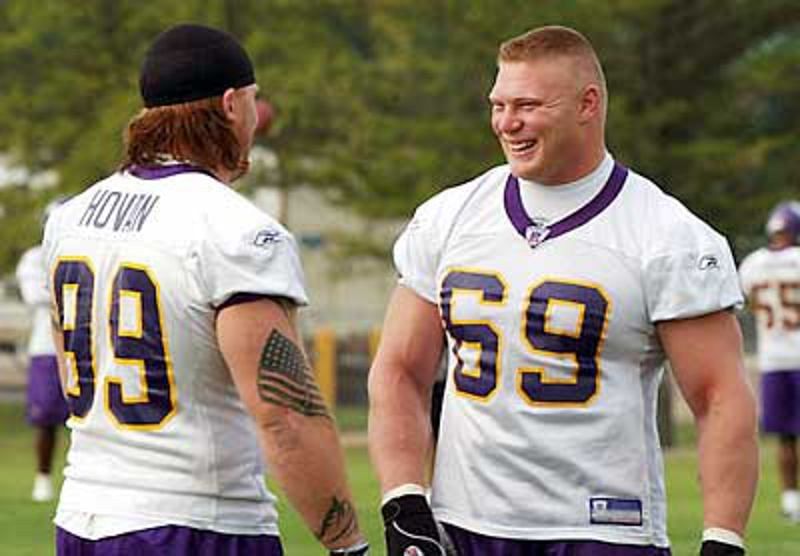 He had a broken jaw and got hurt in his left hand. Not only that, but he also got a bruised pelvis and a pulled groin. But we all know Brock Lesnar is one tough guy. And despite that setback, he continued to work hard.
His hard work and determination gave him a place in the Minnesota Vikings team. But the injury had a major impact on him. And it is also one of the key reasons behind him failing to make it big in football.
He signed for the Minnesota Vikings and played several preseason games. But unfortunately, he got released and did not make it beyond the preseason to the regular season.
Following his unsuccessful attempt at football, Lesnar once again stepped inside the squared circle. He even entered the MMA world and won the UFC Heavyweight Championship once.
Brock Lesnar had a great start to 2022
Lesnar began 2022 on a positive note. He won the WWE Championship for the sixth time at WWE Day 1 Premium Live Event.
Even though he lost the WWE Championship to Bobby Lashley at WWE Royal Rumble, he won it back at WWE Elimination Chamber Premium Live Event.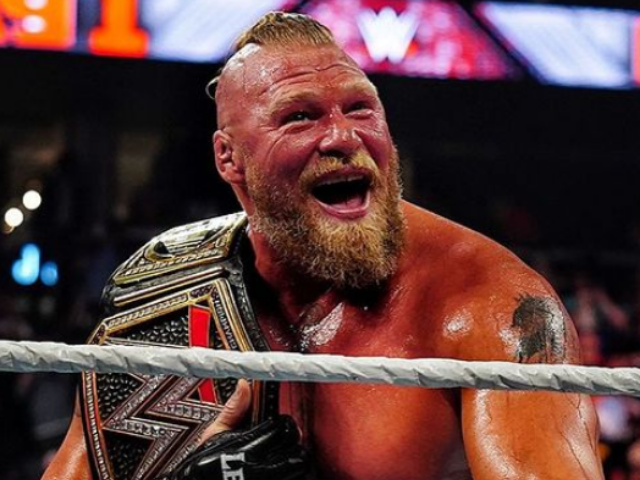 Also, he moved one step closer to equaling Steve Austin's record of 3 Royal Rumble wins by winning the Men's 2022 Royal Rumble Match. He is all set to battle Roman Reigns and headline WrestleMania 38.