The WWE Hall of Famer Ric Flair knows how to live his life excitingly. Ric Flair is indeed one of the greatest pro wrestlers to ever step inside the squared circle. This man has spent almost four glorious decades in professional wrestling.
Ric Flair's "The Nature Boy" character is larger than life, yet he has brought exciting news! At 73, 'The Nature Boy' Ric Flair announced that he would have one last match for the love of wrestling.
Not only will Flair have his final match in a six-man tag team match, but he will also headline the STARRCAST V act.
Get ready for The Roast of Ric Flair!
The 16-time World Champion Ric Flair will take center stage for "The Roast of Ric Flair" at STARRCAST V. Flair's 40 illustrious years in professional wrestling have transcended the wrestling business and made him a pop culture icon.
WWE Hall of Farmer's son-in-law, Conrad Thompson, shared an official video of "The Roast of Ric Flair." Flair cut an incredible promo for the wrestling fans and his admirers to advertise his own roast.
Flair mentioned, "The Roast of Ric Flair? Are you kidding me? It's the Nature Boy! What are they going to say? I am, Wooo! The Man! Okay? I am the king of trash talking. You say what you want to say; just remember, at the end of the night, when all is said and done, I get to talk about you. Wooo! The Roast of Ric Flair, Starrcast. Wooo!"
'The Nature Boy' in this advertisement stated that he is the king of trash talking. Back in Flair's wrestling days, he was referred to as "The Dirtiest Player in the Game."
Therefore, Flair doesn't care about people roasting him because he has confidence in himself. Even though 'The Nature Boy' gets smacked by someone during the roast show, he will get back at them with better burns.
More details on the roast of WWE Hall of Famer
STARRCAST V will happen in Nashville Fairgrounds, and Flair's last match after his retirement is scheduled for 31st July 2022. Notably, Flair's son-in-law, Conrad Thompson, booked "The Roast of Ric Flair" at the same venue on July 29, 2022.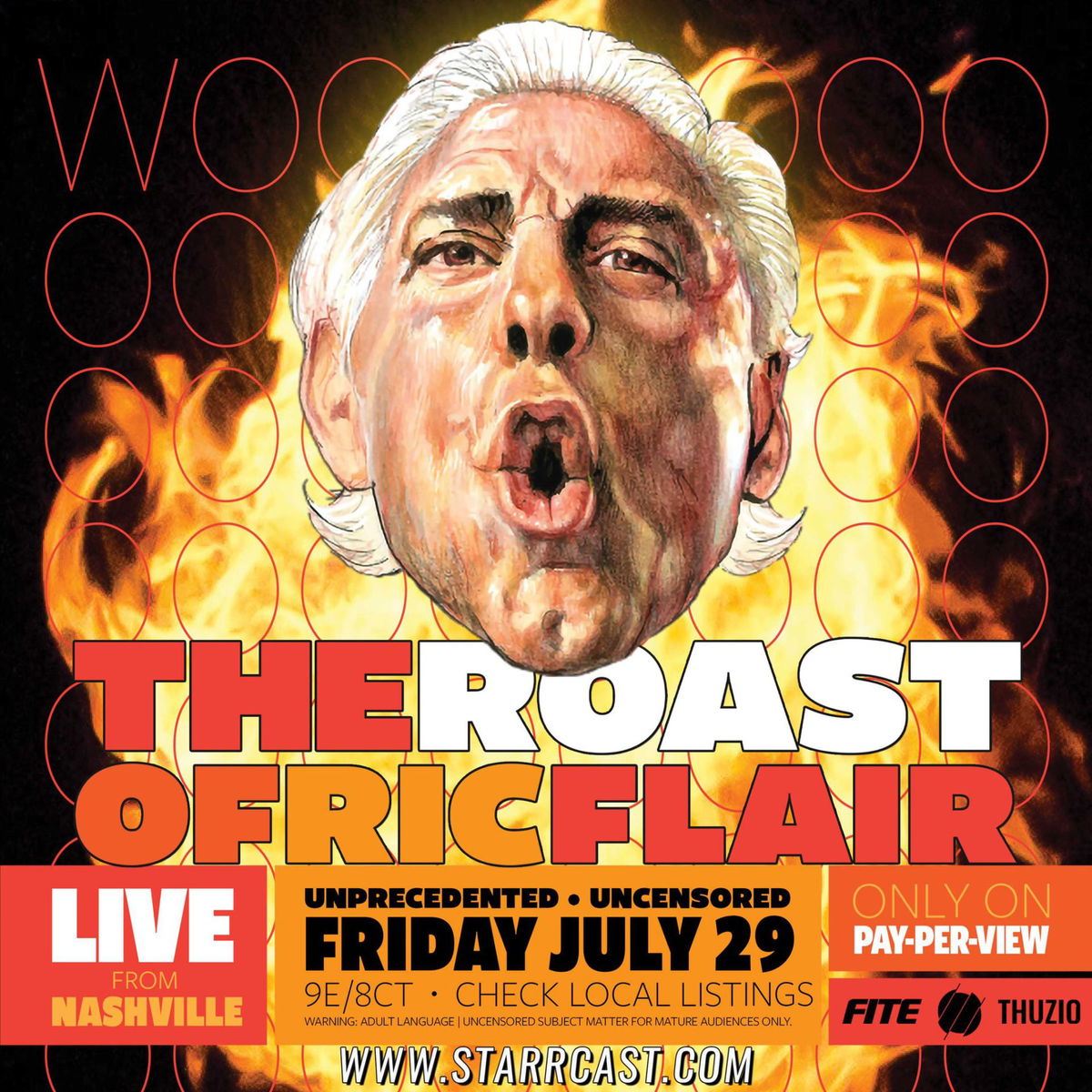 "The last weekend in July is going to be Ric's swan song in a professional wrestling ring, so what better way to send him off before his final match than giving him a proper roast?" Conrad Thompson asked.
Ric Flair's original roast was scheduled back in May 2019. However, 'The Nature Boy' underwent some health issues, which caused the event to be canceled. Nevertheless, as reported earlier, Flair would return to the squared circle with team FTR's Dax Hardwood and Cash Wheeler against Rock N' Roll Express and Ricky "The Dragon" Steamboat.
As of now, there are no reports about "The Roasters" of the show. And neither the final opponents for Flair's last match has been confirmed. However, only time will tell what 'The Nature Boy' has offered for the wrestling fans from his famed arsenal!