WWE has planned several interesting segments for Brock Lesnar over the years, but it looks like not every segment followed the original plan. In 2003, fans saw Lesnar throwing WWE's only one-legged competitor, Zach Gowen, down the stairs.
Zach Gowen recently took to Twitter and revealed that it wasn't the original plan. The former WWE superstar claimed WWE originally planned an F5 from the iconic SmackDown fist through the stage. According to Gowen, it did not happen as WWE failed to come up with a plan to get them over there.
Zach Gowen noted, "Fun fact: The original plan was for Brock to F5 off the FIST through the stage but we couldn't come up with HOW we would get up there. That plan evolved into him throwing me down the stairs in a wheelchair."
Well, fans might not know that it wasn't Zach Gowen who got thrown down the stairs. It was actually his stunt double. The former WWE superstar himself revealed this on Twitter.
Zach Gowen has been an inspiration for many individuals. Though he had a short spell in WWE, he certainly grabbed the attention of the fans. Not to forget, he also has a win over Brock Lesnar in 2003. Even though it was a Disqualification victory, a win is a win.
Apart from WWE, Gowen also competed in Ring of Honor and Impact Wrestling (previously known as TNA).
Coming to Brock Lesnar now. The Beast Incarnate last competed in a match on Night Two of WWE WrestleMania 38. But he is yet to appear on WWE television after that night.
Where did Brock Lesnar go after WrestleMania 38?
After his defeat to Roman Reigns at WrestleMania 38, Brock Lesnar is yet to show up in front of the WWE universe. Mike Johnson of PWInsider reported they have been told that Lesnar flew back home almost immediately after WrestleMania 38.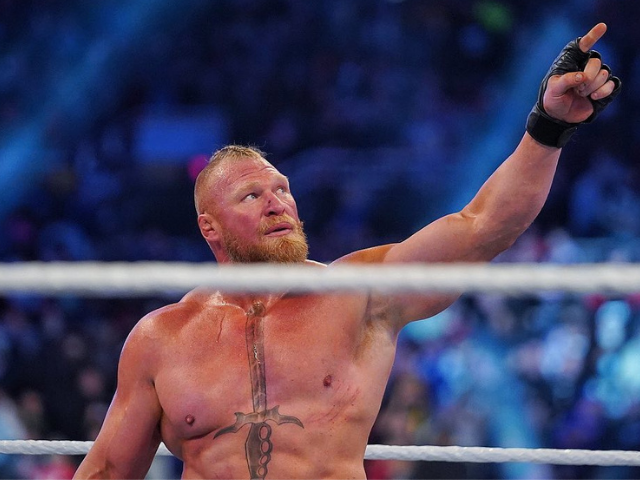 It is not known when the fans will get to see 'The Beast Incarnate' back again in WWE. However, he is expected to return at least before WWE SummerSlam 2022.
This is because Brock Lesnar got advertised for WWE SummerSlam recently, where WWE might have also given a spoiler on his opponent for 'The Biggest Party of The Summer'.